About us
WE STAND FOR SWISS INGENUITY, INNOVATION AND TAILOR-MADE SOLUTIONS IN  CLAMPING AND COOLING TECHNOLOGY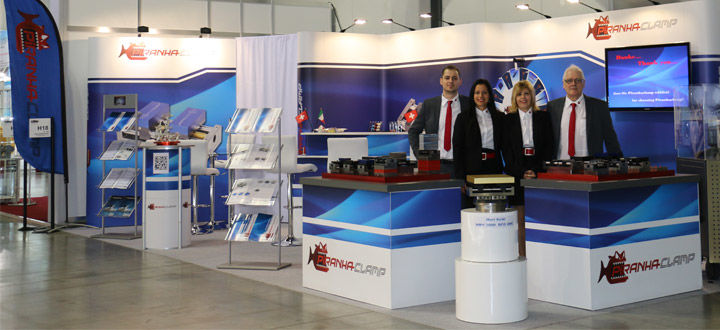 What we do
Our core competence lies in raw part machining of metals: Turning, milling, grinding, lasering und erosion at the highest level. Our machine park is always of the newest generation. We have been producing finished parts of Swiss-precision for more than 20 years.

Tailor-made solutions are our speciality and are engineered in close collaboration with our international clientele.

As in-house manufacturing company we have developed own machine parts for clamping and cooling. At the EMO Milan 2015 we introduced our products Piranha Clamp and Piranha CoolingLine to the industry professionals and were overwhelmed by the positive response.


Piranha Clamp
In 2015 we extended our plant with a new 5-axis machine.  However, what we could not find anywhere on the global market, was a low centering vise, that could fulfil all our requirements. We decided to combine the advantages of all the leading products on the market and developed a superior centering vise.

Piranha Clamp is a centering vise with a completely new guiding system for extreme clamping power. There is no prior shaping necessary and it is the lowest build in the market. The slim construction is crucial, to maximise the workspace for the raw parts. Piranha Clamp is one of a kind.


Piranha CoolingLine
In our precision engineering plant we were never satisfied with the common cooling systems you find on the market. Like many other companies we had machinery tool breakages due to unreliable cooling tools. In recent years we therefore began to develop our own cooling product. The result is our patented Piranha CoolingLine, which functions for a variety of applications under highest pressure and to absolute on point precision. High-quality design, lightweight and durability are the key features of the CoolingLine that you assemble modularly to your specific needs.



Our history
Markus Rogenmoser founded the company in 1993. As Swiss precision engineer he was adamat to run a state of the art machine park. To this day we produce world-class finished parts in Steinhausen ZG, Switzerland. The company grew consistently with the years and was renamed in 2015 to Piranha Clamp. That same year Raphael Rogenmoser took over the management of the company in second generation, which he has helped shape and develop for over 15 years.
back to top